If you'd like to watch my review you can do so here:
The denafrips ares 2 is an absolutely fantastic dac for the money and at the $700 pricepoint it's one of my two current favourites, alongside the SMSL VMV D1SE.


Measurements:
Full reports can be downloaded here, these contain additional measurements and full details of test setup configuration:


Test Setup:
– Audio Precision APx555 B-Series Analyzer with 200kOhm input impedance
– Van Damme Star-Quad shielded SPC XLR cables with Amphenol Connectors
– USB Source: AMD PC via ifi iGalvanic 3.0
– Audioquest Carbon USB and SPDIF cables
– All measurements shown in this post are taken with USB input, 44.1khz sample rate and 'sharp' filter unless otherwise noted
– Device was turned on and left to warm up for 24 hours before testing
– Full reports containing additional data and test configurations are attached
– Exact analyzer/filter configurations for each measurement are detailed in the full reports
– APx Project is included in the reports folder should anyone wish to repeat this set of measurements or use it for another DAC
This DAC is an odd one. Subjectively whilst it's too soft sounding for me to want it as an 'only' dac, mostly cause I listen to a fair amount of synthetic and electronic music, I do quite like it for many genres and it'd suit many people's tastes brilliantly.
For an R2R dac especially at this pricepoint it seems to do very well. BUT, the claim that it is a NOS dac is absolutely untrue. The 'NOS' mode on this dac is simply linear interpolation at 768khz/705.6khz. It is not NOS.
Additionally, whilst measuring this DAC there have been some….oddities which haven't occurred on other devices. It seems that Denafrips is doing a fair amount of DSP on this DAC which hinders some measurements.
John Atkinson of stereophile found that he was completely unable to even do a linearity test as the transfer function made it present a strange stepped zigzag result.
Whilst testing this device I found that swept sine tests behaved unusually, with frequency response results often looking either outright wrong or with a strange 'rippling' toward the end which differed in appearance dependent on the length of the sweep.
Additionally the THD+N and IMD values change depending on the level, which whilst not necessarily intentional, might help to 'inflate' this device's Dynamic range test results by about 10dB.
If there are any other measurements you'd like to see they're most likely in the reports. But if not, let me know and I'll add them to my sequence for future tests.
If anyone sees any issues with any measurements or configs please let me know and they'll be addressed.
1khz 0dBfs: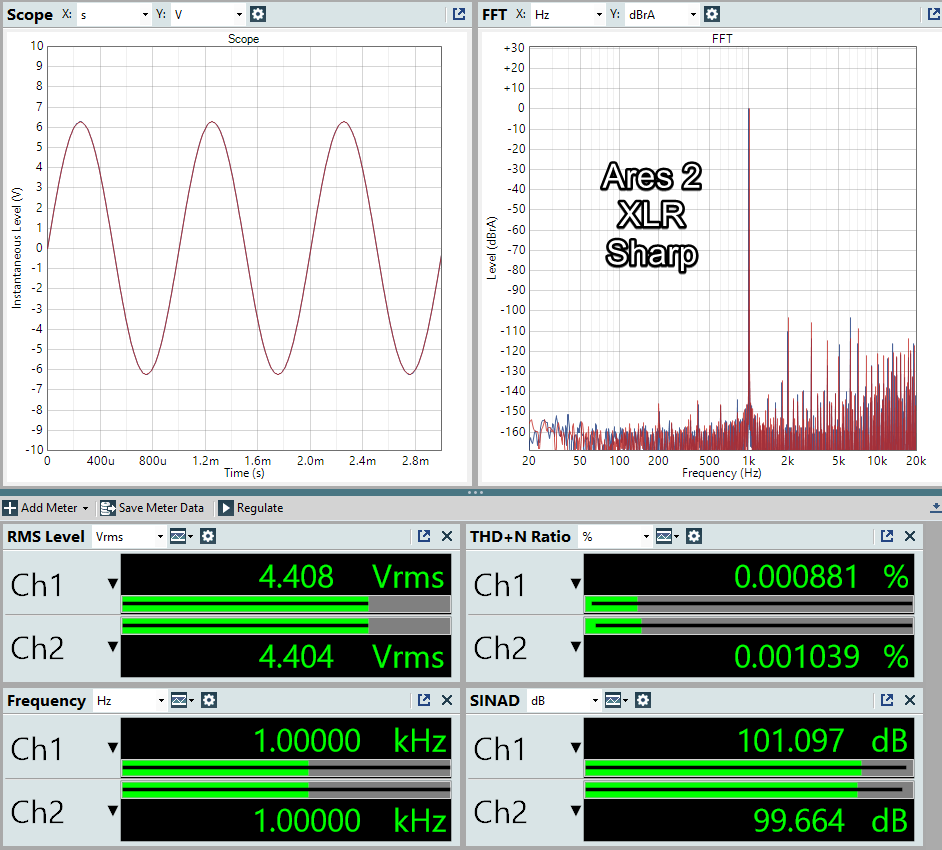 1khz -3dBfs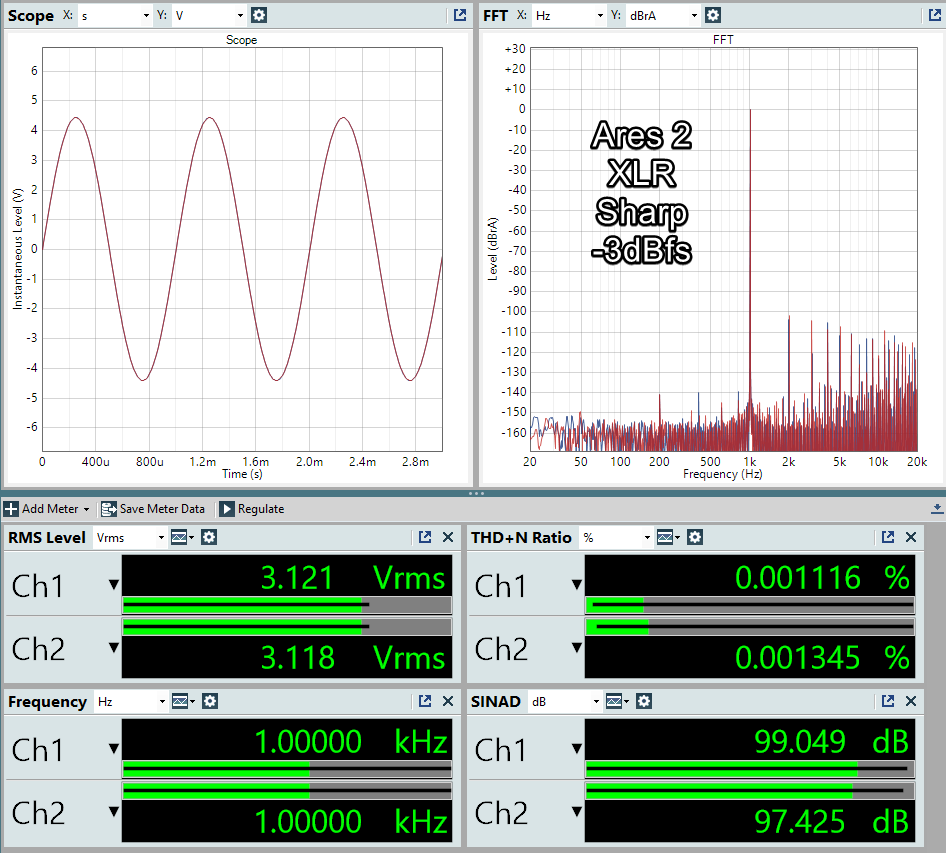 THD+N / Frequency: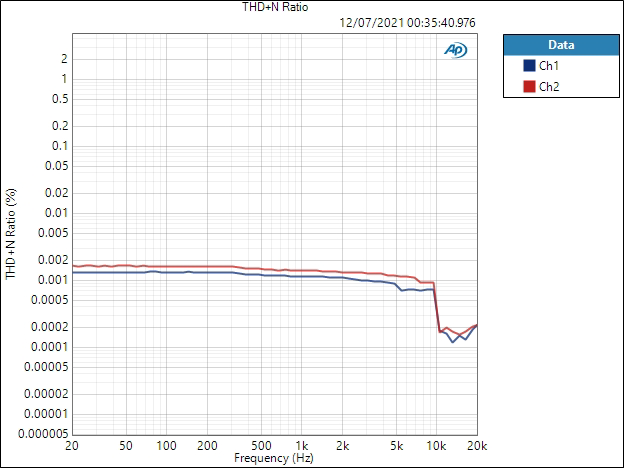 Linearity: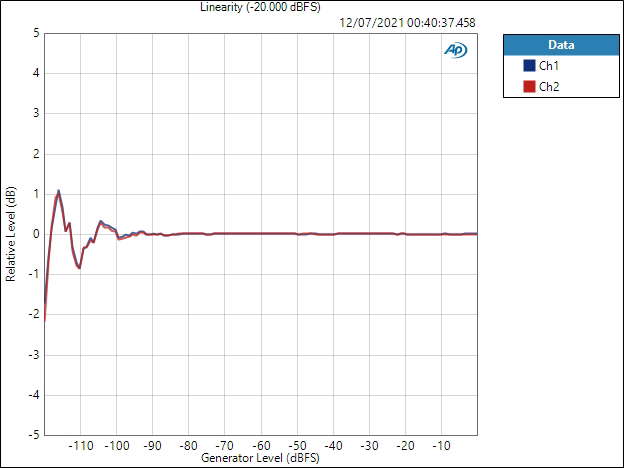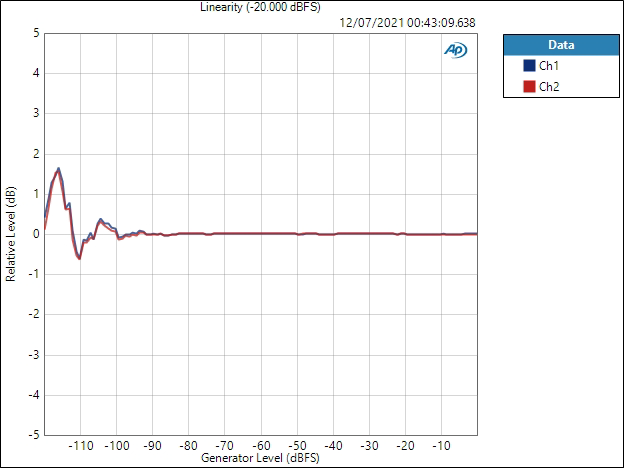 SINAD(THD+N) / Output Level:
Strange behaviour here with a couple 'jumps' leading up to -60dB.
This is a little concerning as it could imply that the AES17 dynamic range measurement, which uses a -60dB sine, may not give a fully realistic result here.
It implies that this is not a 'true' R2R design and is instead using two ladders with different reference voltages stuck together. This is a little concerning given as the jump is right at -40dB, which is where a LOT of music content is.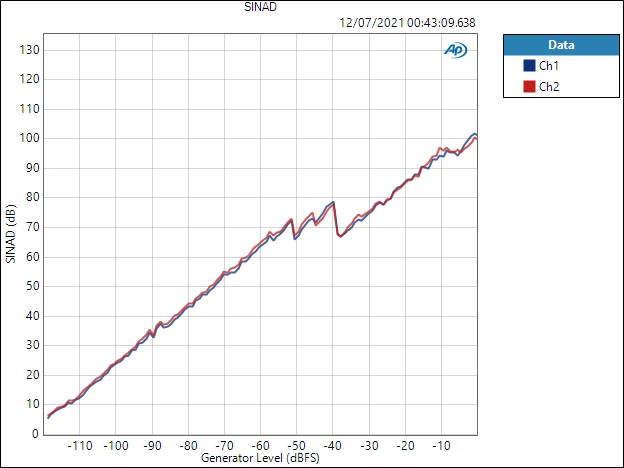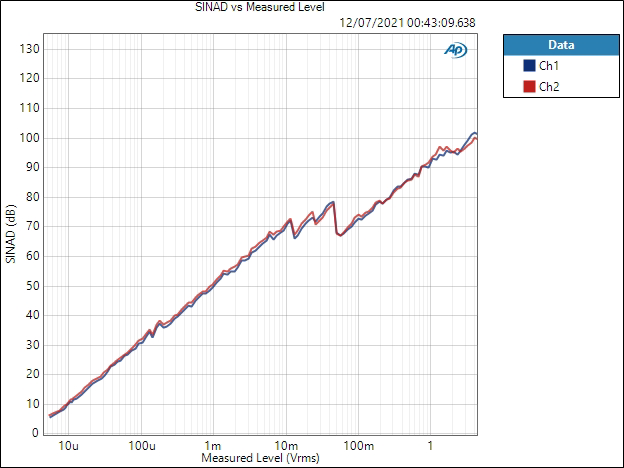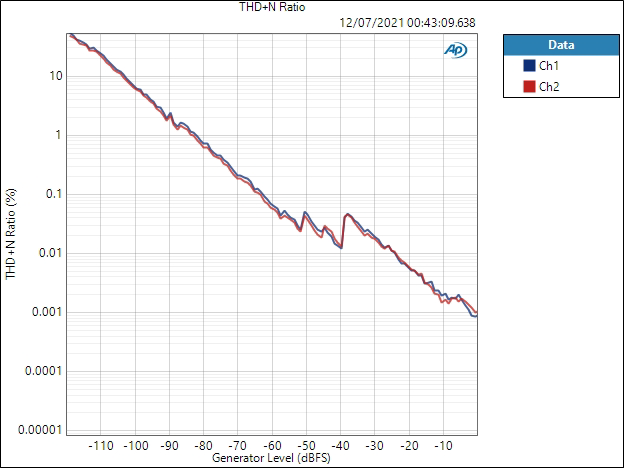 IMD (SMPTE) vs Output Level: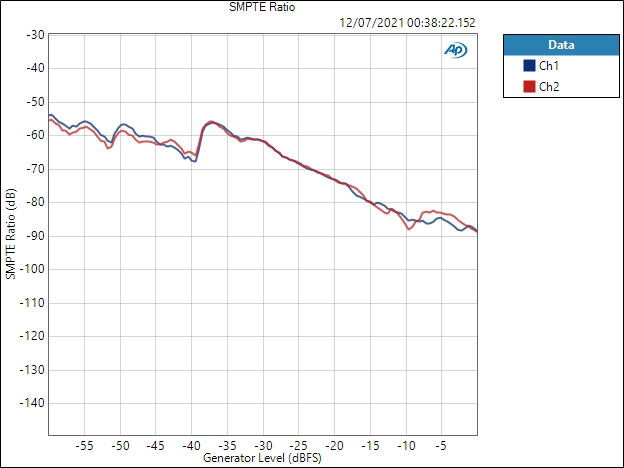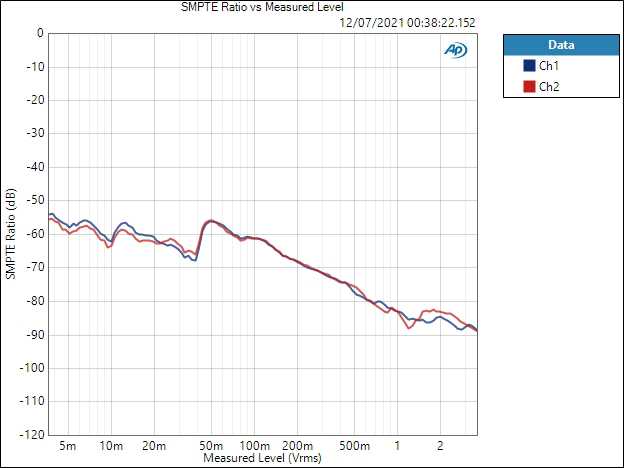 Dynamic Range (AES17):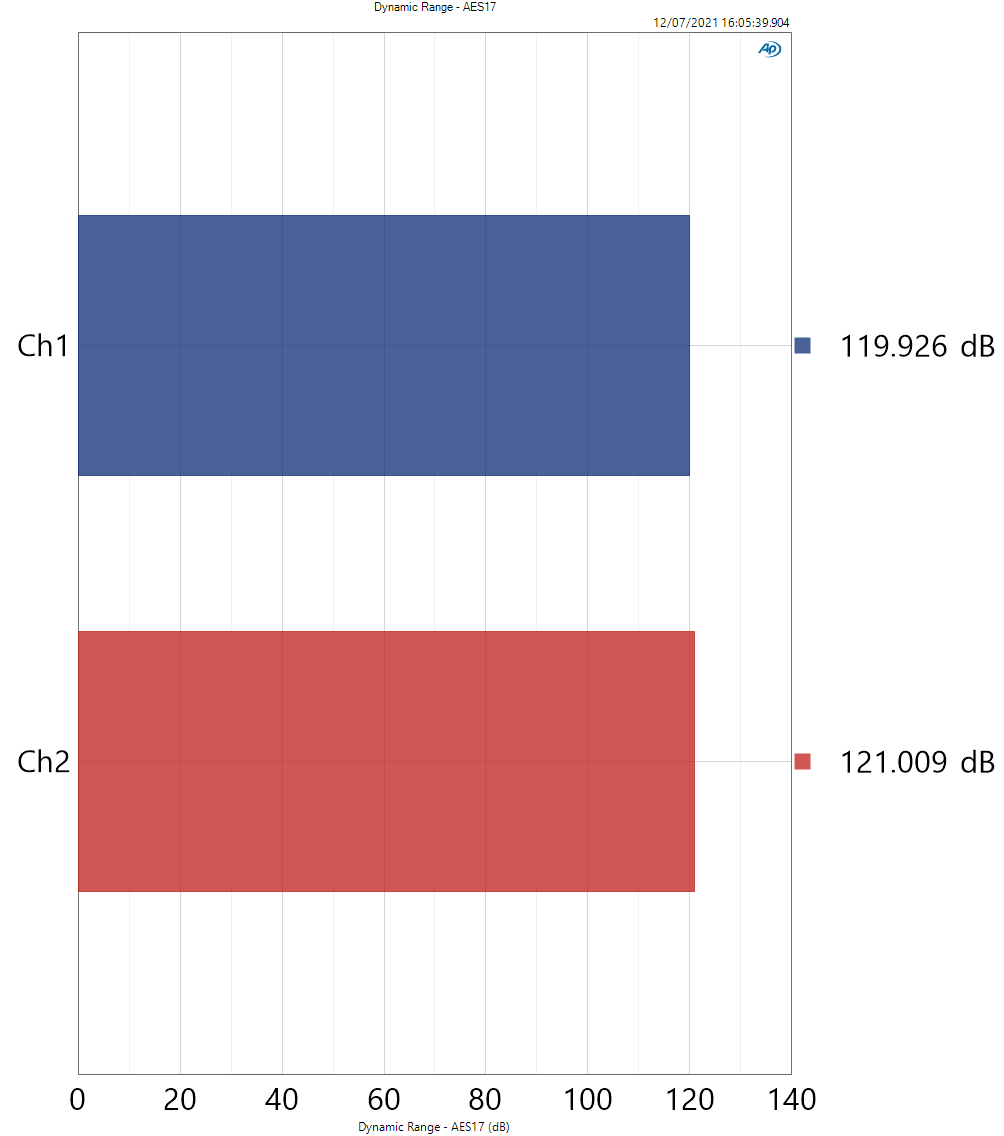 SNR: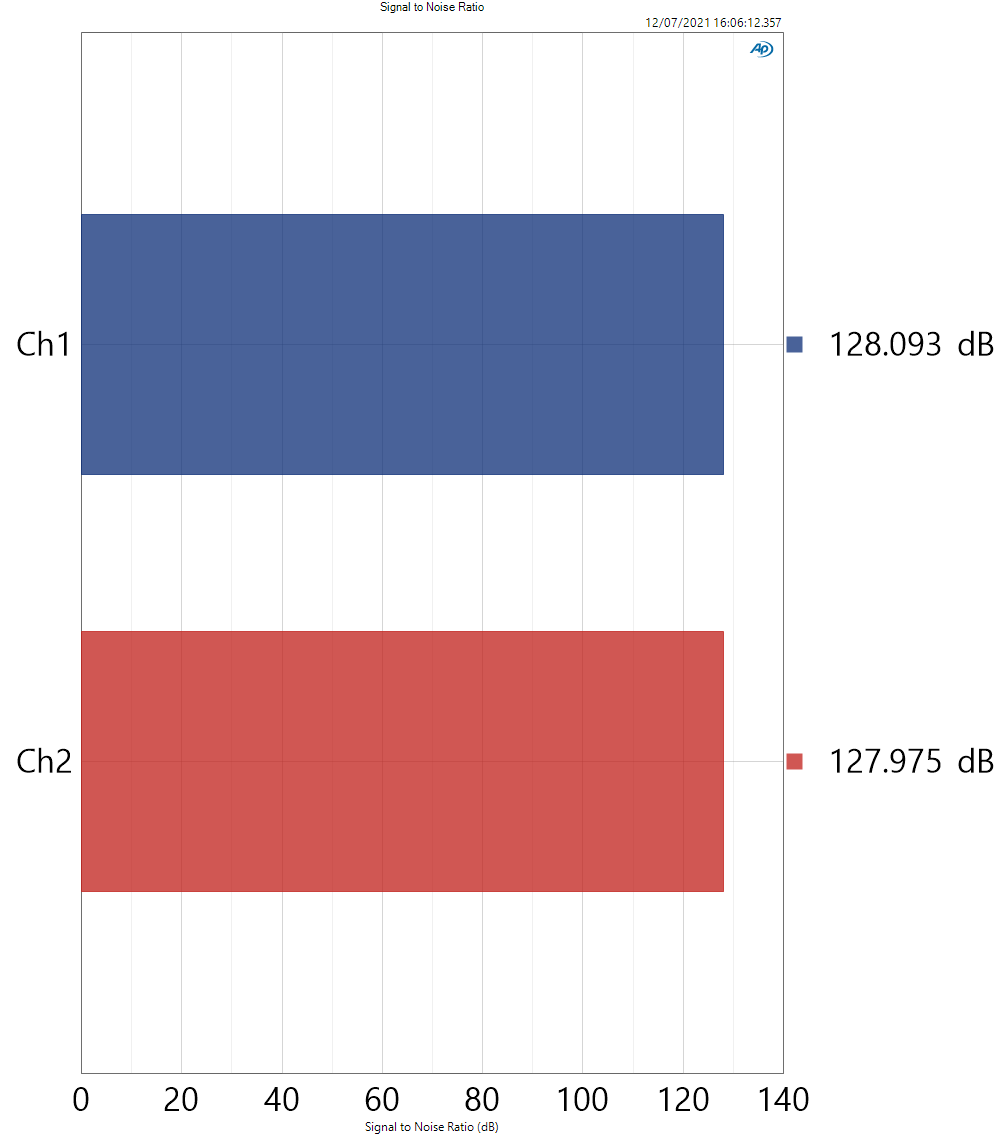 Crosstalk: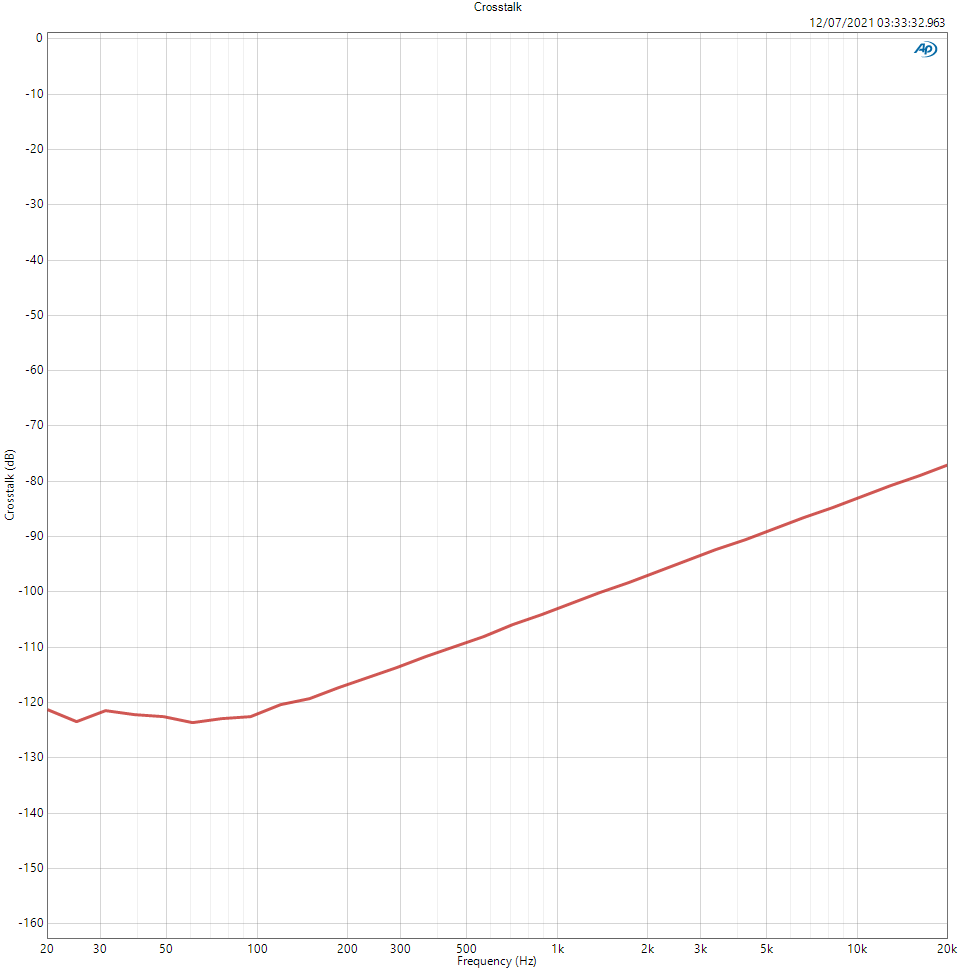 -90.31dBfs Sine (Recorded with 192khz ADC sample rate):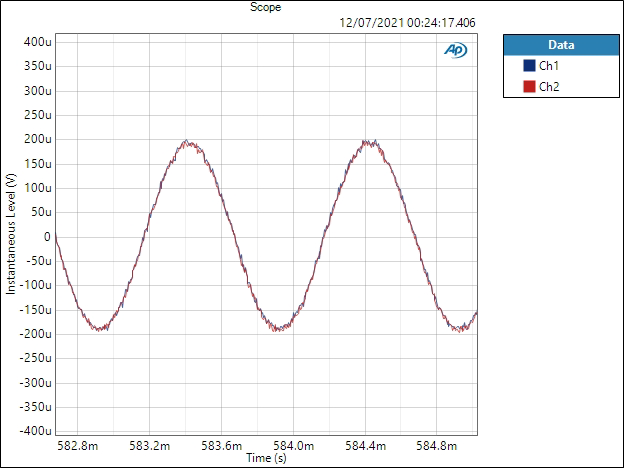 Filter Ultrasonic attenuation: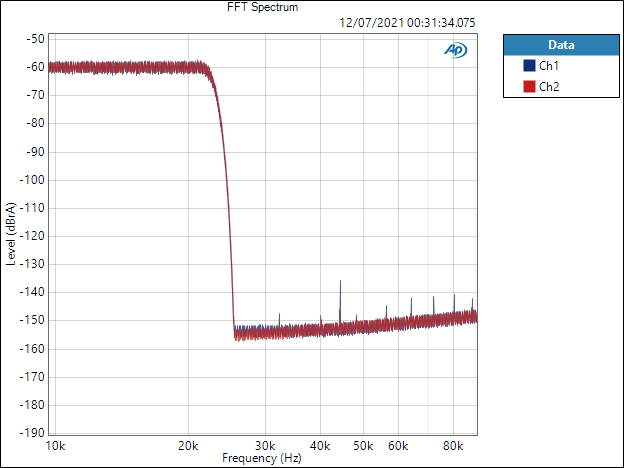 Impulse Response: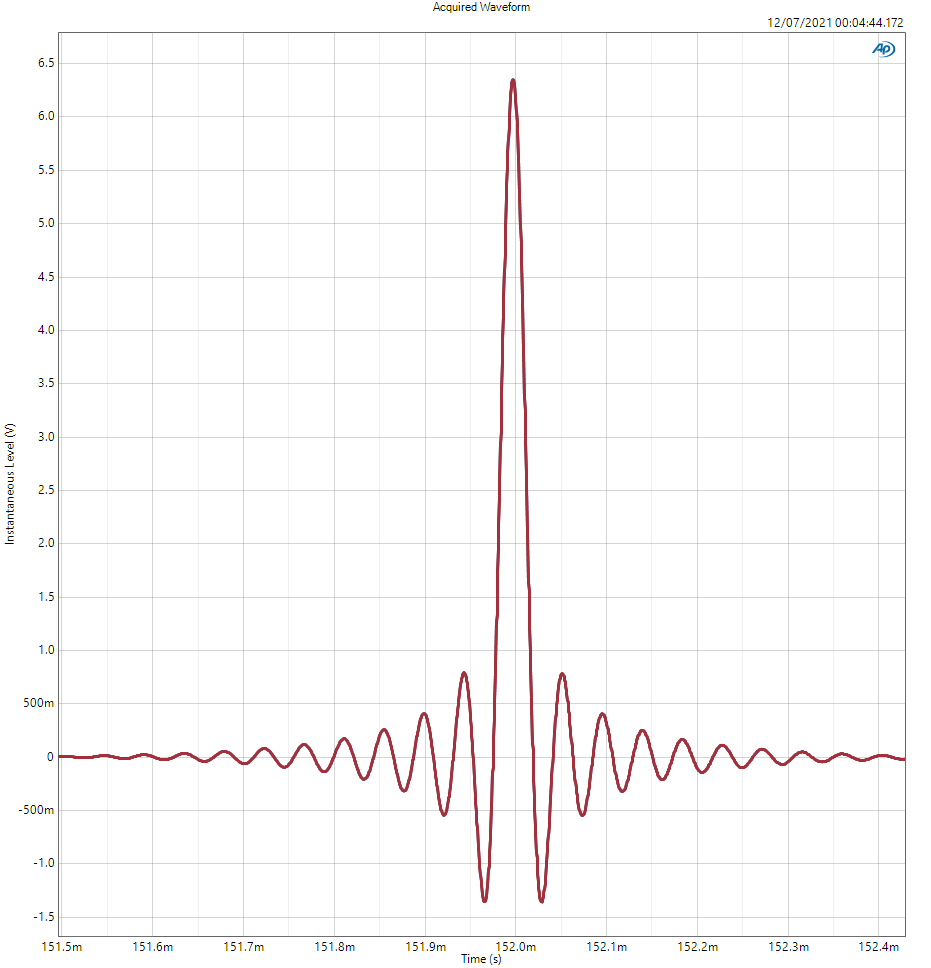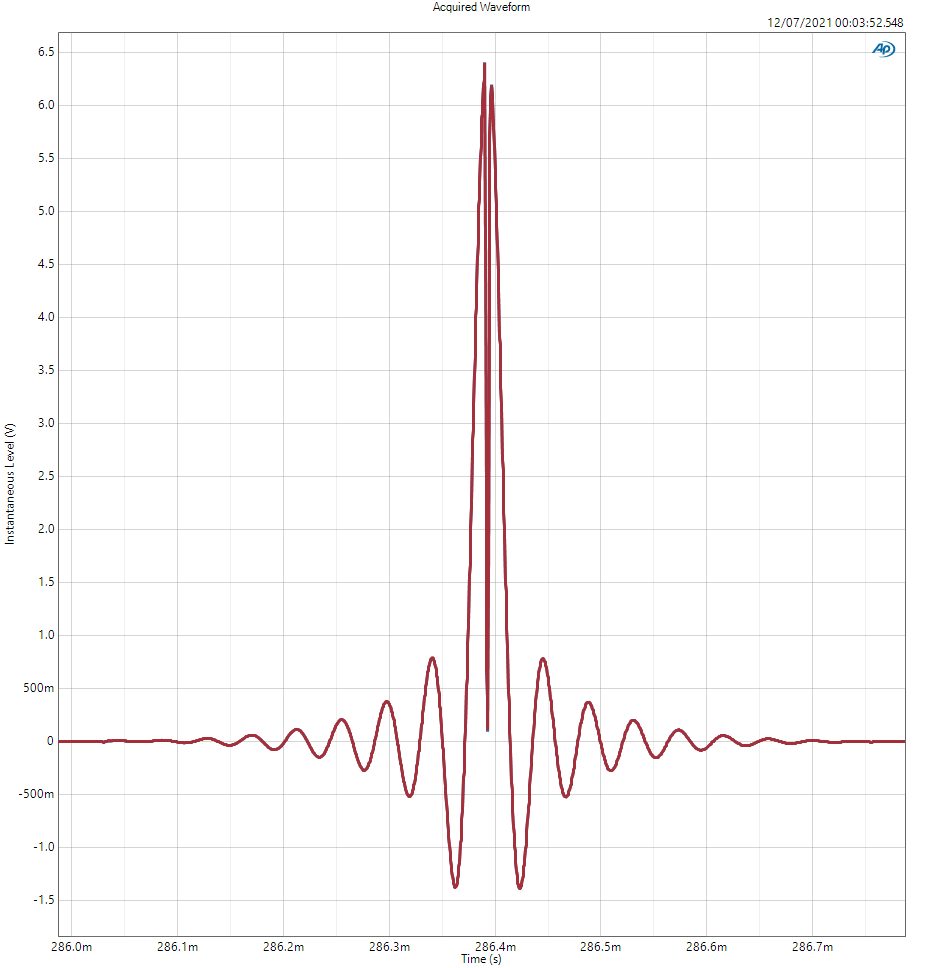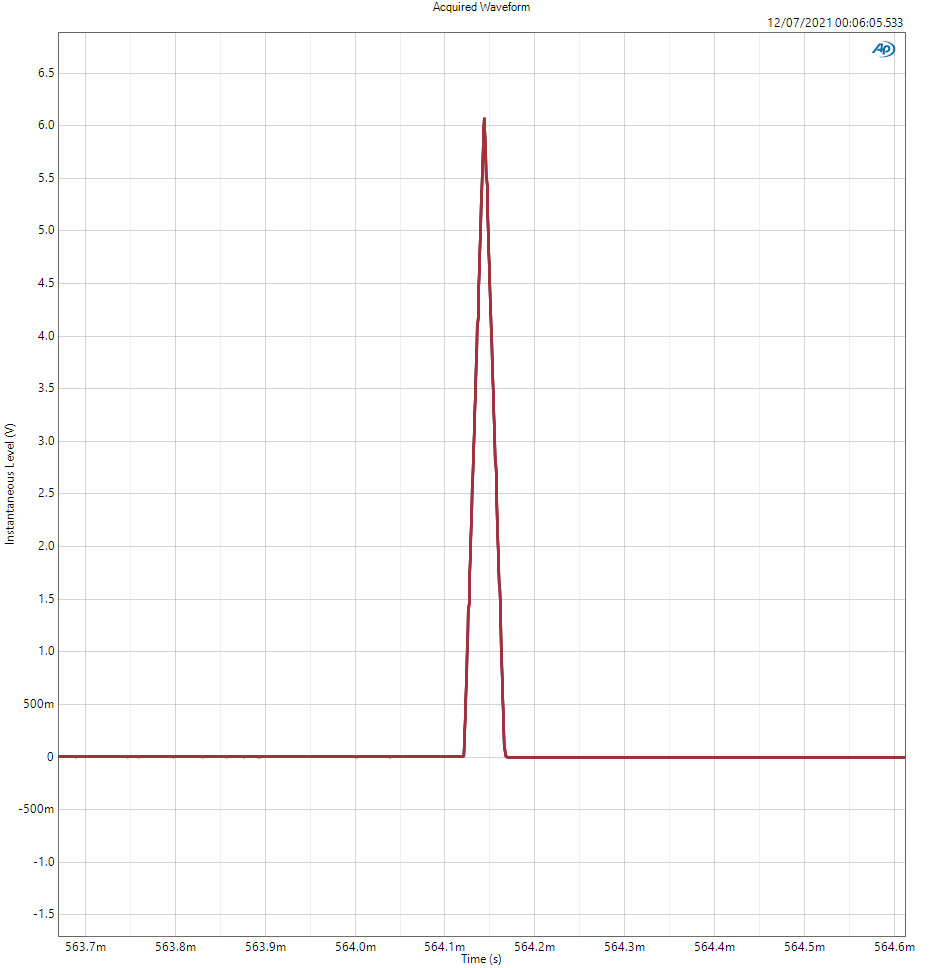 Idle Noise Spectrum upto 1.2Mhz: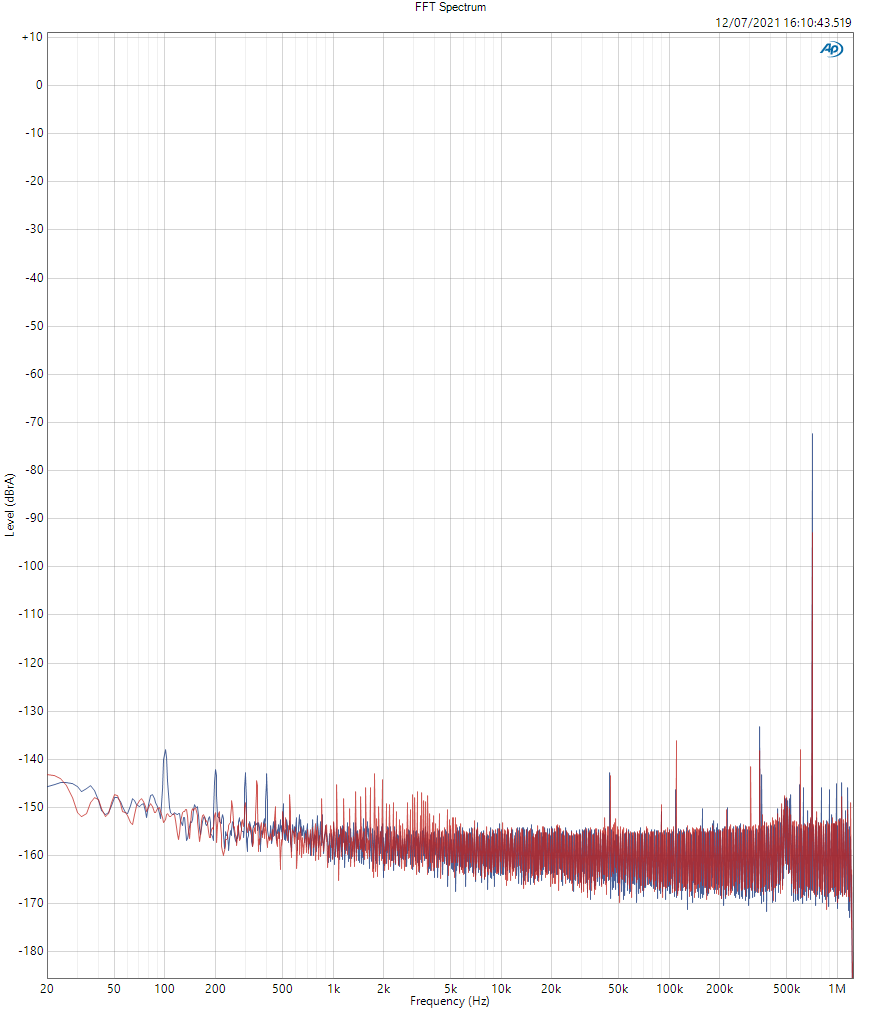 44.1khz Jitter (On USB):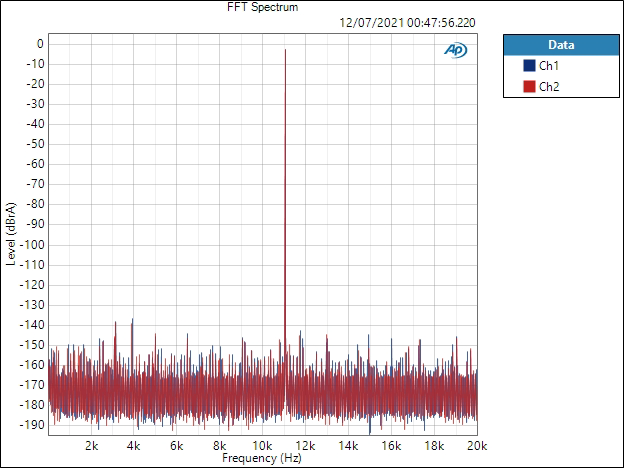 Jitter measurements were the same on both SPDIF and USB, suggesting that the buffering system is in place on both input methods and that the performance of the source device is unlikely to impact things much.
48khz Jitter (On USB):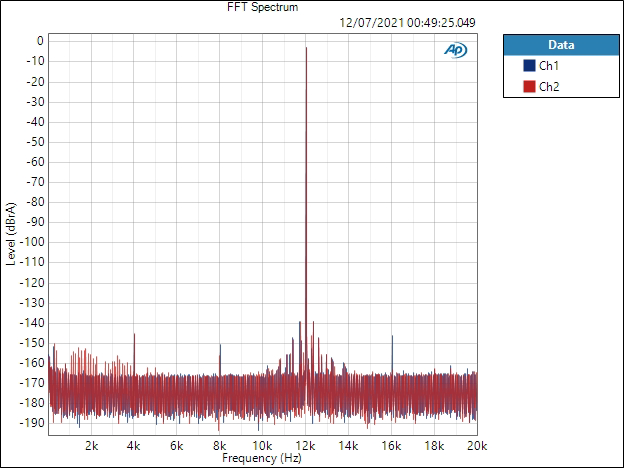 Multitone: